Monday 6th September
It was Father's Day here in Australia yesterday. It's not at the same time as the UK, so I have to remember to buy an extra card for Nick's Dad for when the UK Father's Day comes around (oops, will have to go and see if they've got any left in the shops!!)
So we went for a lovely drive up the mountain and went to a pub which we'd been to before and had really enjoyed the food. Yesterday was not so good. Food was very average and we won't be going there again. Saying that it was a lovely day and we sat ouside in the sun.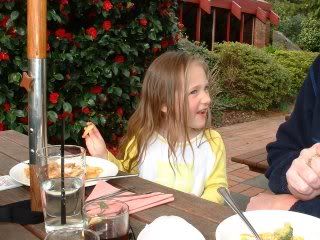 Saturday we went to the Expats Meet Up. It was a really nice afternoon and met some really nice people too. And get this......I didn't have one drink of alcohol!!! Yep, you heard right - drank water all afternoon. Thought I'd save my bottle of champers for the evening instead!! Found another really nice one. It's made by Seppelt and it's called
Fleur de Lys
and it's very tasty if I do say so myself!!
When we got back from the Expats Meet Up, we watched my favourite footy team Essendon beat Melbourne to go through to the next round of the final series.....yaayyy. I never get emotional about any type of sport apart from football. Nick can vouch for this, but I was screaming at the TV while I was watching. Can't say what happens but something just changes in me - don't think you'd believe it if you didn't see for yourself!!!
Oh Helsy, Nick picked up a brochure with all the walking tracks in the local area. Not sure if he thought you may be interested when you come over....Yeah right!!