Saturday 9th October
I know, I know...just didn't get a chance to write in here yesterday.
Work has totally knackered me out. Am taking in alot of info at the moment and by the time I got home last night, my brain was in meltdown mode...so I just switched off and veged out on the couch and watched Bridget Jones Diary on the telly (always a great movie to watch!!).
Some good news - looks like Nick has now been offered a job. It's a driving one, but we're not sure what the hours are at the moment. He starts on Wednesday. There are still another couple that he's applied for as well, but we haven't heard back from them yet.
Alana enjoyed the party that she went to yesterday afternoon. They had a bouncy castle there and she absolutely adores them, so just played on that most of the time. Anyone with a digital camera will know how hard it is to take moving photos with one, so here's the best one of the bunch!!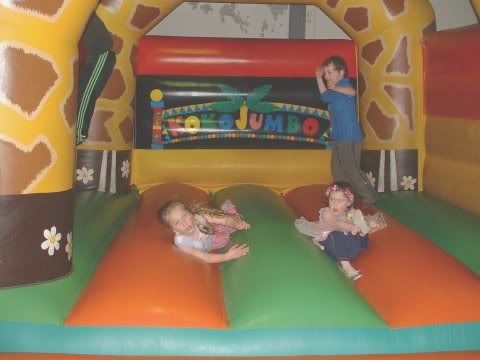 I've been out in the garden today. Dunno about green fingers, but my hands were pretty grotty when I'd finished weeding. The next door neighbours have ivy growing over the fence and I hate Ivy, so I got the snippers onto it and cut it all down on our side of the fence.
I'm also going to dig out the agapanthas that are growing down the side of the driveway and put some boronias, fuscias and azaleas in there. It'll make it very pretty, very colourful and it'll smell lovely because of the boronias.
Nick took some photos while I was slogging away.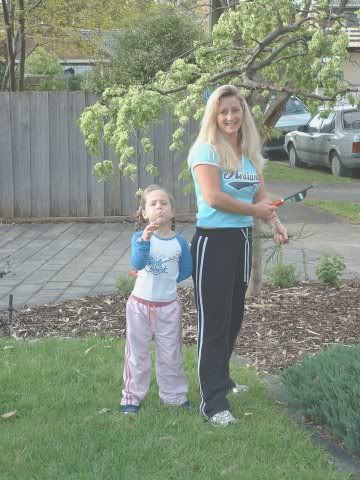 And here's one of Alana looking cute!!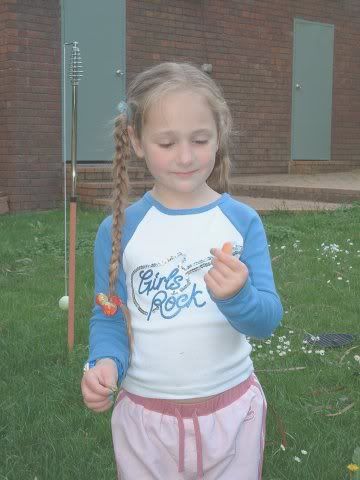 Well I'd better go clear up the kitchen as it looks like a bomb's hit it after making dinner, then I'm going to sit down in front of the telly and put my feet up.....oh and get this, no alcohol this weekend either!!!!