Thursday 21st September
Firstly I have to clarify a couple of things.
Yesterday when I said that I cleaned the house, it wasn't just me, Nick was there too doing his share.
Also, we hadn't planned to go away for the holidays, and I had absolutely no thought of doing so either.
And also when I said that I'd thought that I might be able to have a relaxing break it was before I actually wrote down everything that we wanted to do over the holidays. The list was quite long and I realised that we wern't going to get alot of time to just sit around the house and relax!! That's why I said "like that's going to happen".
So today I got to sit in the sun and relax!! Nick did all the ironing so that I got some time in the sun.
Here's my favourite spot at the moment.
Alana was happily playing in the sandpit while I was sunning myself.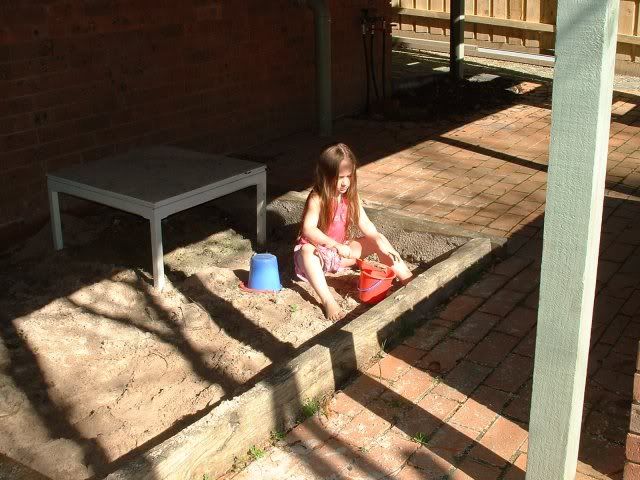 We were going to go to the beach tomorrow, but there's going to be a cool change in the afternoon with thunderstorms and rain, so we've decided to go to the cinema and see Garfield instead.
I got my results back for my Open University....I failed, which I am not too bothered about as I didn't submit all of the assignment. I can re-sit it if I want, but to be honest I'm not sure if I can be bothered. I've got until next May to decide anyway, so if I get some spare time I may do some revision and try and get to grips with it all again.
I do have some other news but I'm going to keep you all in suspense until Thursday or Friday!!